Special Exhibitions/Events/Libraries

Photo:Kenshu Shintsubo
BL Evolution: From Pioneers to Global Phenomenon ―Tracing the 50 Year History and Impact of Boys' Love through Manga, Literature, and Media
This exhibition introduces the history of the "Boys' Love",
a genre popular to Japan and worldwide, spanning over 50 years. 
It explores the roots and evolution of Boys Love via displays of
 precious original artworks and magazines.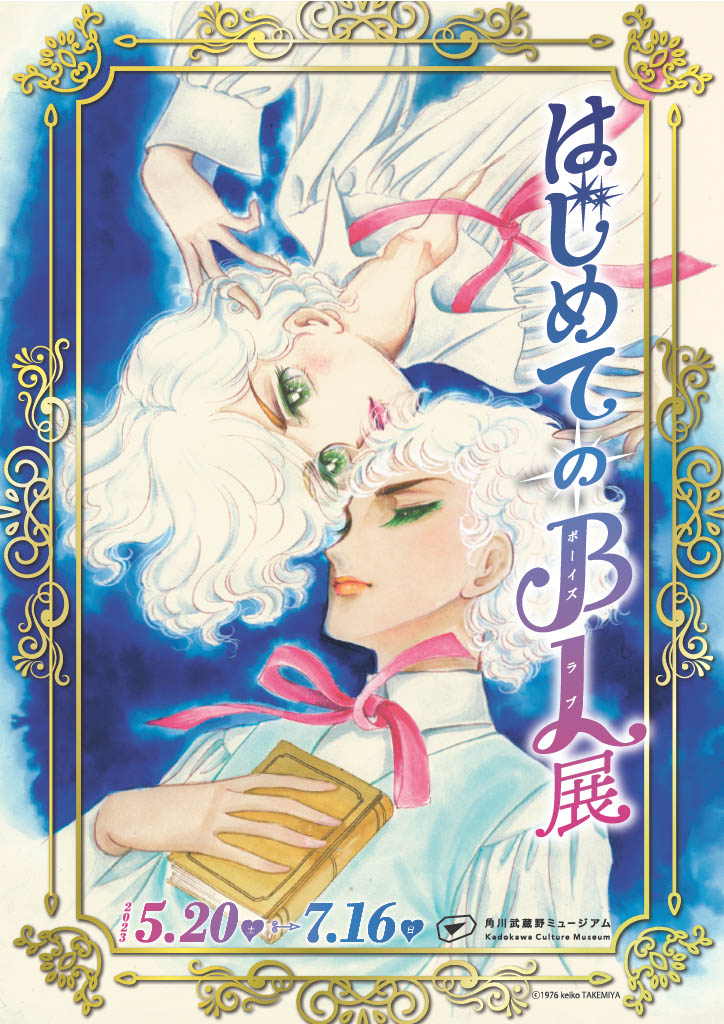 Boys Love (BL) is a fiction genre that deals with romantic relationships between men. Traditionally, it has been developed through novels and manga, but in recent years, the number of visual works has increased, and it is becoming more widely recognized. You can watch BL dramas from around the world on television and the internet.

Tracing its history, Mari Mori became the first female author in Japan to write about male love in the 1960s, and in the 1970s, shōjo manga artists such as Keiko Takemiya began to depict romantic relationships between boys, known as shōnen-ai. Since the launch of the first male-male love magazine June in 1978, BL has spawned various subcultures and expanded its influence.

In 1992, Kadokawa Shoten (now KADOKAWA) established the KADOKAWA RUBY BUNKO label, which mainly focused on aestheticism and BL novels, and became a platform for creators who started their career in June to shine.

In this exhibition, the evolution of BL as a specialized genre is divided into three major periods, starting with June. The exhibition introduces epoch-making works and movements from each period, accompanied by original drawings, books, magazines, videos, and chronologies. This exhibition is accessible for both those familiar with BL and those encountering the culture for the first time.

You will be able to see precious exhibits such as Genga'(Dash)¹ reproductions and original artwork by Keiko Takemiya, Yu Asagiri, Sawa Sakura, and more. Additionally, there are handwritten manuscripts of novels by Azusa Nakajima (Kaoru Kurimoto) as well as samples of out-of-print BL magazines. Voice actor Toshiyuki Morikawa will provide narration at select areas of the venue.
¹Genga'(Dash): A project dedicated to the reproduction of original manga manuscripts, digitally captured and printed using multi-layered color adjustment printing. The project is led by manga artist Keiko Takemiya and is a collaboration between the International Manga Research Center of Kyoto Seika University and the Kyoto International Manga Museum.
Exhibition Outline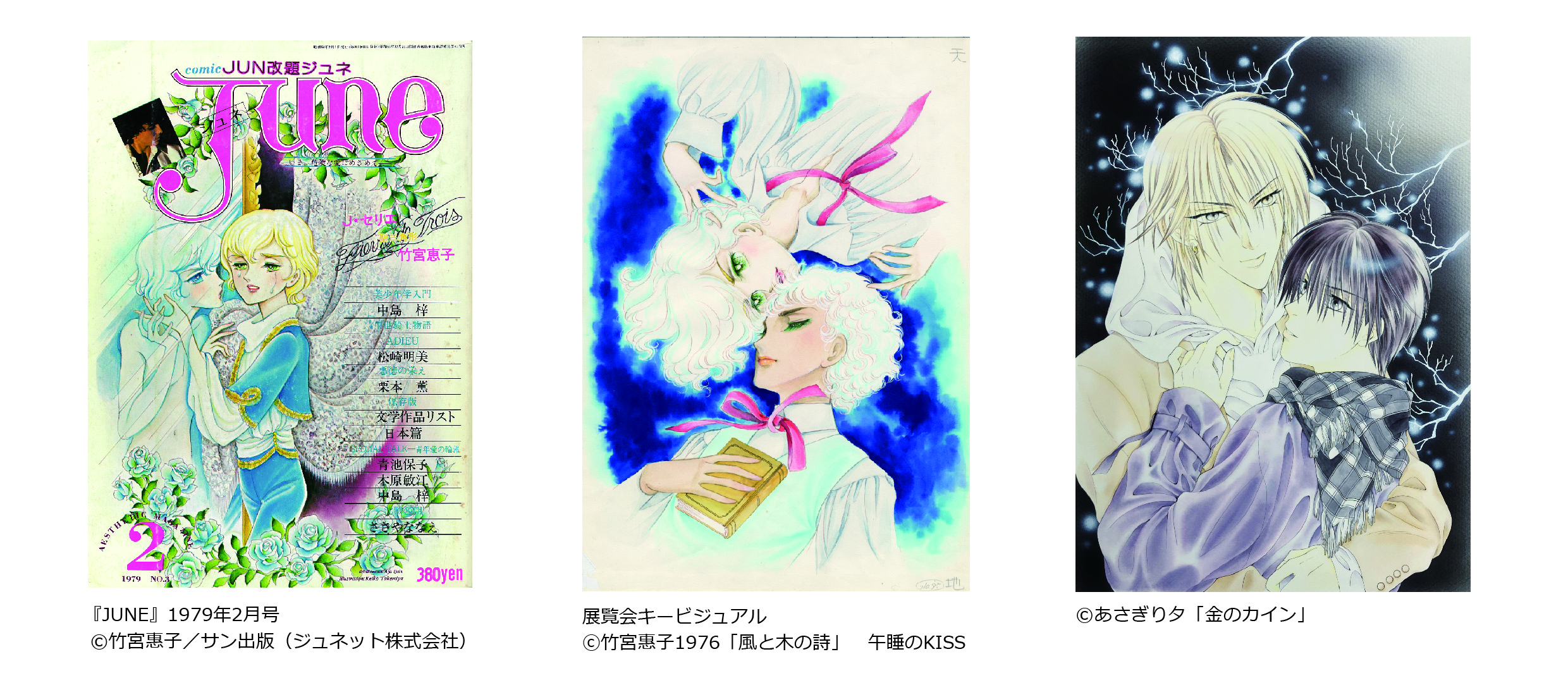 【INTRODUCTION】
In this area, various BL-related video works will be shown, such as the movie trailer for Takumi-kun Series: The Beginning of a Long, Long Story's Morning which will be released this year, as well as the movie trailer for Metamorphose no Engawa which was released in 2022.
1.The June Era
The magazine June was founded in 1978. It mainly featured works with a theme of love between men and fostered BL authors, contributing significantly to the development of BL culture. In this area, we will comprehensively introduce the secret stories of the founding of June as told by former editor-in-chief Toshihiko Sagawa, the cultivation of BL manga artists in the magazine, and the works and authors who were born from the magazine and later led the BL genre.
Furthermore, we will display valuable original artworks, such as the cover of the first issue drawn by manga artist Keiko Takemiya, who has a deep connection with June, and the artwork Kaze to Ki no Uta: Gosui no KISS which is also the exhibition's key visual.
●About June
June (1978-1995) was a women's magazine focused on male-male romance. It was published by Magazine Magazine (formerly Sun Publishing) and originally launched in October 1978 under the title Comic Jun before being retitled to June in 1979. June and its derivative publications focused on manga & novels as well as related movies, literature, and reader submissions.
2. Yaoi
The term yaoi² is an acronym of the phrase "YAma-nashi, Ochi-nashi, Imi-nashi" (no climax, no punch line, no meaning), and is said to have originated from a doujinshi published back in 1979. Subsequently, the yaoi boom in the late 1980s led to the birth of "coupling" - parodies of existing mainstream anime and manga works, depicting male characters from popular series in sexual scenarios, typically in a seme-uke (dominant/submissive) dynamic. Major conventions like Comic Market (Comiket) experienced a surge in yaoi interest groups (circles), turning the subculture into a mass social phenomenon, and in this section of the exhibition we will take a deeper look into this transformation.
²For this exhibition, "yaoi" is defined as derivative fan-made BL works.


3. Blooming BL Culture
From the early 1990s, BL manga and novel magazines were launched one after another, drawing more and more attention to BL culture. This area will introduce you to popular magazines such as MAGAZINE BE×BOY which celebrates its 30th anniversary this year, along with actual exhibits.
In this period, more and more authors active in both BL and non-BL works started appearing - one of which is Yu Asagiri, whose original artwork will be on display.
Today, BL receives international recognition, and events are held all over the world. Come and learn about its ever expanding body of work, the outgrowth of its sub-genres, and its path to becoming a transmedia franchise.


【Satellite Venue】
Books and magazines exhibited in the main Edit and Art Gallery venue will be made available to read at the Book Street satellite venue on the same floor.
There will also be a display of obi³ of BL books. Typically, obis provide an introduction, catchphrases, and promotional phrases for the book, serving as an important appeal point for readers to pick it up. However, BL obis are known for their bold catchphrases. In cooperation with the exhibition, Marco, a freelance writer who has been introducing BL obi on his website Coffee Writer, will have a selected display of BL obi that caught his attention over the years.
³Obi: The belly band, also known as an advertising wrap, is the printed strip of paper wrapped around the book when you first get it.
Event Outline
Title
BL Evolution: From Pioneers to Global Phenomenon -Tracing the 50 Year History and Impact of Boys' Love through Manga, Literature, and Media-
Period
5.20 (Sat)-7.16 (Sun), 2023
Venue
Kadokawa Culture Museum
・Main venue: 4F Edit and Art Gallery
・Satellite venue: 4F Book Street
Hours
Sun-Thu: 10:00-18:00 (last entry 17:30)
Fri & Sat: 10:00-21:00 (last entry 20:30)
Closed days
The museum closes on the 1st, 3rd & 5th Tuesdays of every month
Organizer
Kadokawa Culture Museum (Kadokawa Culture Promotion Foundation)
Supervisors
In no particular order: Yukari Fujimoto, Toshihiko Sagawa, Mari Nishihara, Akiko Hori, Naoto Misaki.
Cooperation
In no particular order: KADOKAWA CORPORATION, Tranquilizer Product Ltd., Yu Production Ltd., SHODENSHA Publishing Co.,Ltd., ShuCream Inc., Miki Ishida, Tart, Marco, Kaichiro Morikawa, Tomoko Yamada, Kiyoshi Imaoka、Comic  Market, BOOK☆WALKER、SHINSHOKAN Co., Ltd., Libre Inc., AXLONE, Meiji University Yoshihiro Yonezawa Memorial Library of Manga and Subcultures, Katsushika Central Library, Kyoto International Manga Museum / Kyoto Seika University International Manga Research Center, Glovision Inc., Takumi-kun Series Production Committee, Mr. Unlucky Has No Choice But to Kiss! Production Committee・MBS, Wash My Heart Production Committee、BL Metamorphosis Production Committee.
KCM Standard Ticket

(incl. Bookshelf Theater access)

Price (tax inclusive)

General (university student and above)

1,400 yen

Middle school student

1,200 yen

Elementary school student

1,000 yen

●Scheduled close days and opening hours are subject to change. See website for latest information.
●The 1DAY Passport ticket also allows access to the exhibition. See website for details.

●Certain areas of the venue may be inaccessible due to exhibit rearrangements at the time of your visit.
●Exhibition content is subject to change or cancellation.