Special Exhibitions/Events/Libraries

Photo:Kenshu Shintsubo
TAGUKORE: Dunno A Thing About Art (But I Like It)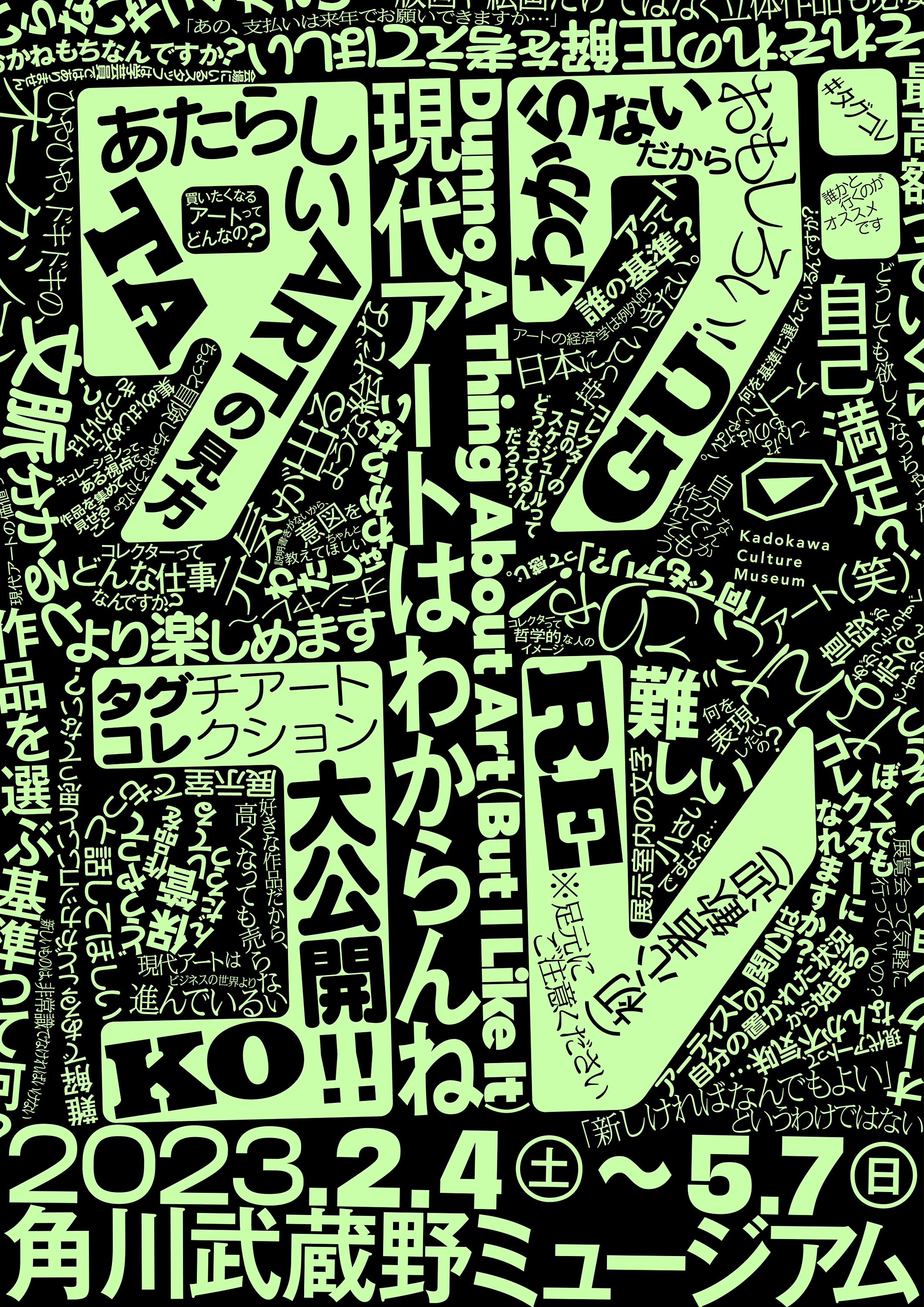 The Taguchi Art Collection (below "Tagukore") is a collection of contemporary art that Hiroshi Taguchi, an entrepreneur who had no connection whatsoever to contemporary art, but felt attracted to that very "lack of knowledge," started as a private enterprise after the Misumi Collection, which was initially a corporate art collection. Today the Tagukore enjoys a high reputation as one of the best art collections in Japan. Rather than one man's private hobby, the intention was to introduce contemporary art to a broader audience, and for this purpose, works from the collection have been lent out to art museums, or exhibited at elementary and junior high schools among others. These activities make it an art collection with a particularly unique quality and social character. Sympathizing with the Taguchi Art Collection's philosophy, the Kadokawa Culture Museum is going to use this time's exhibition as a stepping stone for further programs that offer opportunities for appreciating contemporary art.
This exhibition focuses especially on three persons: Hiroshi Taguchi, who founded the Taguchi Art Collection; Masashi Shiobara, one of the advisers who assumed a central, piloting function in shaping it; and Miwa Taguchi, Hiroshi's daughter, who took over the collection's management from her father, and took it to the next level. It is, therefore, an exhibition that looks at contemporary art from the viewpoint of a collection with a prominently human factor so to speak. The idea is to introduce artworks along with various episodes related to the collection, and thereby offer visitors a unique experience that brings them a little closer to contemporary art that used to be something rather remote.
Each of the exhibited works has of course received high acclaim in the art world, and here we explain not only the works themselves, but outline where possible also the reasons for their reputation. The accompanying texts were written by Shingo Jinno, the director of the Kadokawa Culture Museum's contemporary art department.
Compared to the average contemporary art show, it is thus an exhibition that includes an unusual amount of text information. In the history European and American art, there have been movements promoting the elimination of all but the essential elements of form and color, so the idea that information in the shape of text should be excluded as much as possible, is firmly rooted. In contemporary art, however, works that make their appeal understood through their visual appearance only, are in the minority. Aggressively complementing the displays at this exhibition with text information, is how we decided to take the challenge to strip contemporary art of its elusiveness and aloofness.
As simply adding large amounts of text may spoil the visitor's enjoyment of the works on display, great effort was put also into the design of the exhibition venue, employing the services of Shun Sasaki, a designer who is particularly skilled at creating efficient designs for text displays at exhibitions, and ALTEMY, a creative team specializing in innovative display setups.

Stories related to the collection, to bring visitors closer to the artworks
Easy-to-understand introductions to works of contemporary art
An innovative display format that integrates text information and the presence of artworks
These are the things that we hope you will enjoy at this exhibition.
●Exhibition contents
Episode 1: Encountering the unknown
Hiroshi Taguchi's encounter with contemporary art was very much an "encounter with the unknown." Showcased here are works from a collection that Taguchi, driven by his attraction to art, has amassed while muttering, "I dunno a thing about contemporary art..." Somewhat frightening when you don't have a clue, but quite intriguing once you learn more about it – that's the charm of contemporary art that we hope you will discover through your own encounter at this exhibition.
Episode 2: Expanding the collection
"I like that!" These are the three words that set the ball rolling for the Tagukore. Understanding the backgrounds of one's favorite works, and their positions within the art world at large, is at once eye-opening as to what artists and works one should explore next. This is where advisors come into play. Their role is essential, as no art collection grows without the help of advisors. Here we demonstrate how the Tagukore developed through teamwork with advisors.
Episode 3: Purchasing artworks
"I have the money so I can buy any art, right?" Well, not quite. In fact, there are works of art that many people want, but that no money in the world can buy. For artists and galleries, rather than the price that an artwork fetches, it is more important to know that it will be in good hands, as this will ultimately be reflected in the artist's reputation. Along with the works from the collection, here we illustrate some of the hardships involved in getting one's hand on a good piece of art in a world in which the seller has the say.
Episode 4: Art changes as generations change
Art is something that continues to change. Many works of contemporary art today deal with all sorts of social issues, such as poverty, discrimination, violence and gender issues. The Tagukore has transformed too, little by little, after the daughter took over the collection from her father. These transformations reflect at once the transformations of the art world itself.
Episode 5: Art is for everyone
An art collection usually gets going when a wealthy or powerful person starts collecting works for his or her own fun or self-exhibition. In the case of the Tagukore, it's a bit different. In addition to lending out works from the collection to various art museums, they are also shown in exhibitions at school gymnasiums, or made into card games. The protagonist here is the spectator. After all, the Tagukore was put together for your pleasure, rather than that of the collector.
This exhibition's works are displayed not only in the exhibition rooms, but at various locations in and around the museum:
The museum's exterior wall; in front of the Grand Gallery, and in the corridor in front of the restrooms on the 1st floor; the Lobby (main entrance hall) on the 2nd floor; the stairway next to the Rock Museum Shop between the 1st and 2nd floor; Edit Town - Book Street on the 4th floor; and the elevator hall on the 5th floor.
●Message to visitors
◇Hiroshi Taguchi,Miwa Taguchi (Taguchi Art Collection)
The subtitle of this exhibition, "Dunno A Thing About Art (But I Like It)" is one of collection founder Hiroshi Taguchi's favorite phrases. We have heard it from his mouth for more than thirty years now, during which he has continued to collect works of art. That it isn't easily understood, is perhaps exactly the point that makes contemporary art so fascinating. The things that we don't know, belong to a world that lies in front of us, a new world that we are yet to explore. When we approach it with this same mindset – "I dunno a thing about it, but I like it" – it will gradually reveal its secrets to us.
In times in which the world keeps changing at an astonishing speed, we invite you on a journey around a diverse range of artworks that may serve as signposts leading the way for society into the future. And whenever you feel inspired by it, don't hesitate to share your thoughts with someone else. Without a doubt, it will enhance your experience and enrich your day!
●About the Taguchi Art Collection (Tagukore)
The Taguchi Art Collection includes approximately 550 works (as of December 2020) of contemporary art from around the world, collected by the Misumi Group's founder Hiroshi Taguchi.Back when he was the CEO of Misumi, Taguchi began to build the "Misumi Collection" centering around American pop art, which became one of the first corporate art collections in Japan. After that, Taguchi started a private collection that encompassed
art from other parts of the world, including Japan, while also expanding the range of materials and formats, to include sculptures, photographs, video art, etc. Since 2013, his eldest daughter Miwa has been involved in the collection's management, taking charge of organizing exhibitions and expanding the collection.
● Artists
Ad Minoliti,Andy Warhol,David Salle,David Hockney,Go Watanabe,Gregory Crewdson,Hiraki Sawa,Ishu Han,Izumi Kato,Kara Walker ,Kehinde Wiley,Keiichi Tanaami,Keith Haring,Kohei Nawa,Makoto Aida,Meiro Koizumi,Mickalene Thomas,Oscar Murillo,OSGEMEOS,Peter Halley,Raqib Shaw,Roy Lichtenstein,Ryan McGinness,SUPERFLEX,Tatsuo Miyajima,Tatzu Nishi,Teresa Margolles,Thomas Ruff,Ulla von Brandenburg,Vik Muniz,Yasumasa Morimura,Yinka Shonibare CBE,Yoshitomo Nara,Zanele Muholi
【Exhibition overview】
Exhibition english title: TAGUKORE: Dunno A Thing About Art (But I Like It)
Dates: February 4 (Sat)-May 7 (Sun), 2023

Venue: Kadokawa Culture Museum 1F Grand Gallery
※ In addition to the Grand Gallery on the 1st floor, "Tagukore" will be exhibited on each floor of the museum (including the standard area on the 4th floor, which is a paid area). Please enjoy contemporary art throughout the museum.
※ A separate "KCM Standard ticket" is required to enter the 4th floor standard area. A 1-Day Passport ticket allows admission to both the Grand Gallery on the 1st floor and the Standard Area on the 4th floor.
※Exhibitions of artworks on each floor of the museum will be opened to the public sequentially from January 21. For details, please visit our website.
※The works on each floor of the museum will be exhibited sequentially from January 21st. Please see our website for details.

Organizer: Kadokawa Culture Museum (Kadokawa Culture Promotion Foundation)
Planning cooperation: Taguchi Foundation for Contemporary Art, Arts Plus Institute of Contemporary Art, Art Office Shiobara, MISUMI Group Inc.
Exhibition venue design: ALTEMY
Opening hours: Sunday-Thursday 10:00-18:00 / Friday- Saturday 10:00-21:00 Last admission 30 minutes before closing
Closed: The 1st, 3rd and 5th Tuesdays(open when a nation holiday falls on a Tuesday/next day:close)
Ticket prices (tax included)

● Online purchase (https://tix.kadcul.com/)
General (university students and above): 1,800 yen /Junior high school/high school student: 1,300 yen / Elementary school students and preschool children accompanied by parents: Free
●Tickets purchased at the box office on the day
General (university students and above): 2,000 yen / Junior high school/high school student: 1,500 yen / Elementary school students and preschool children accompanied by parents: Free
※Free admission for up to 2 elementary school students per guardian.

Contact: Kadokawa Culture Museum (3-31-3 Higashi Tokorozawa Wada, Tokorozawa City, Saitama Prefecture 359-0023, Tokorozawa Sakura Town)
TEL: 0570-017-396 (reception hours: 10:00-17:00)
※Closed days and opening hours are subject to change. Please check our website for the latest information.
※This exhibition can also be viewed with a "1-Day Passport" ticket. Please check the official website for details.
※Part of the facilities may not be accessible due to exhibition changes or other reasons depending on the schedule.
※Please note that the exhibition contents are subject to change or cancellation. Please be forewarned in advance.
※This exhibition is very dark inside the venue. Please be careful where you step.
リンク
Taguchi Art Collection Official site